Life Shows & Pickled Punk Shows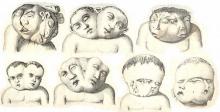 RIGHT: Illustration from "Transactions of the Medical Society of the State of New York For The Year 1867."
Two-Headed Babies and monstrous births of all kinds preserved in bottles were a mainstay of the show scene from a very early age. Lou Dufour made a career (and a fortune) by gussying up the pickled punk show into his famed "LIFE Show" beginning in the 1930s. Captain Henry Boswell did the same in the 1940s, 50's and 60s.
Member Images