Long-Distance Travelers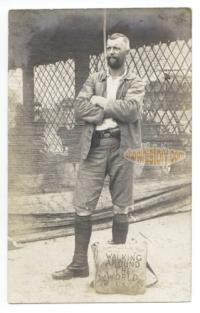 Walking, Pushing Wheelbarrows, Riding Scooters, Pulled In Dogcarts & Goatcarts, Pulled By Wolves & Oxen, Pushing "Pushmobiles", Driving Carriages & Motorcycles & Horseless Carriages, Bicycling, Riding Horses, Roller-Skating, Stilt-Walking, Etc.
From perhaps 1900 to the mid-1940's many hundreds of hard-traveling performers sold their act literally "on the road."

Most akin to the freak performers that sold glimpses of themselves as outsiders, the long distance traveler was an act that had only itself as show.

Whether on foot or other conveyance, they appeared mostly unannounced passing through small towns across the USA (and virtually every other country), as ephemeral celebrities who made their living by selling postcards, pitch books, and souvenirs and sometimes giving lectures about their travels.

Their exploits today are lost to history, but their stories can be found on postcards and pitch cards they sold to the curious public that met them on their thousand stops along the journey towards the next place. Many professed poverty, several boasted of their Herculean frugalness in getting from point A to point B on small change, charity or the hard work— the performance art— of traveling.

This later-day "pedestrianism" was simply a now vanished way to make a living through the novelty of vast perambulations, the travelers' purposeful or unintended eccentricities, obvious physical disabilities, or even as sidelight, to publicize or promote some product other than themselves which they endorsed as they rode, walked, biked, skated, barreled, etc., out of sight.

An excellent website devoted to "Globetrotters" by Claudio S. (Italy) and
John W. (USA) can be found here: http://xoomer.virgilio.it/globetrotters/index.htm
Members-only images
Performers in this category
JOIN THE SHOW!
You're missing all sorts of good stuff. If you were a member, you would see thousands of color images, detailed biographies and all sorts of fascinating information about each image. Why not BECOME A MEMBER today?