CARNIVAL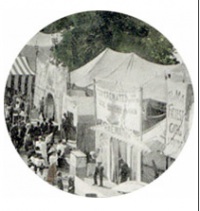 The traveling carnival in America has been the premier form of outdoor amusement since the late-19th century. The substance and layout of the carnival has little changed since its earliest inspiration and incarnation at The Chicago World's Fair of 1893. More properly known as The Columbian Exposition, this fair at the end of the 19th Century featured on its "Midway Plaisance" many iconic shows, rides, food, and midway games that are still in evidence today.
After the 1893 Chicago World's Fair, a few traveling carnival companies began touring the United States, so that by 1902 there were 17 traveling carnivals in the United States. By 1905 there were close to 50, and by 1937 there were over 300 carnivals playing civic celebrations, state and county fairs across the United States.
Until just after World War II, carnivals consisted mostly of shows-- sideshows, freak shows, animal shows, girl shows, minstrel shows, thrill shows, illusion shows, crime shows, geek shows, athletic shows, religious shows, drug shows, etc. etc. If it had the word show in it, then you can be assured it travelled at least for a season or two with a carnival.
Today most carnivals travel with just one or two shows-- their entertainment component consisting of rides, rides, and more rides. Most shows in today's traveling carnivals are looked at as mere nostalgia, as the days of getting rich setting up pit shows or grind shows, or God help you, a true 10-in-1 sideshow, are sadly long gone.