BEASTS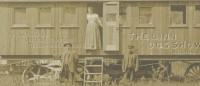 Animals have always been part of show business. Whether educated, trained, or just preternaturally smarter than us humans can imagine, the animal performer is hard working without ever asking for a raise.
Likewise, the exotic beast has been fascinating us since Bartholomew Fair (1133 to 1855), and continues to do so today as we pay to see "The Giant Rat" and "The World's Smallest Horse" at the State Fair.
And the odd bodied animal-- just like the odd bodied human-- has inspired enormous traveling shows. Yes, we will pay to see that 6-Legged Pig and that Two-Headed Cow.
LIST OF ANIMAL PERFORMERS:
8 Legged Educated Horse [d]
Beatty, Clyde (Wild Animal Acts and Trainers)[b]
Bostock (Wild Animal Acts and Trainers)[b]
Buck, Frank (Wild Animal Acts and Trainers)[b]
Cats, Boxing
Chief Pantugal, "The Chicken Hypnotist" [blk 0-563]
Christy Bros. Wild Animal Sideshow [b]
Dogs, High Diving
Dogs, Tricycle Riding [d]
Giant Steer [d]
High School Horse
Horses, Boxing (Horse Subjects)[b]
Horses, Diving
~Prof. G.F. Holloway "High Diving Horses" at Coney Island
~Dr W. F. Carver
~Sonora Webster Carver
Horses, Educated
Horses, Talking
Jacobs, Terrell (Wild Animal Acts and Trainers) [b]
Jumbo "World's Largest Elephant"•
Kangaroos, Boxing
Mae & Bob Noel and Their Athletic Apes •
Menageries As Store Shows •
Monkey Raceways
Pigs, Educated
Porter's Freak Animal Show [d]
Sipe Dog & Pony Shows, 1901 [b]
Sipe, Dolman & Blake's Dog, Pony & Monkey Show, 1898 [b]
FREE IMAGES