Jose de Leon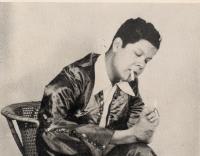 Jose was from Mexico and performed in the 1940's and 1950's as an "Armless Marvel," though in actuality he had thalidomide-like misshapen arms without hands.
He kept his arms hidden beneath flowing shirts except in his earliest portraits.
On a postcard written to his friend Larry Benner, ventriloquist, magician and flea circus operator, he wrote his full name as "Asencion H. De Leon" and his address as "E. Carranza #10, Pachuca, Heo., Mexico"