John Chambers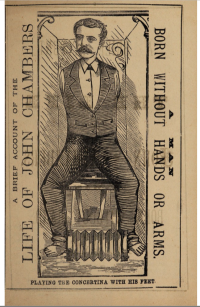 John Chambers was born in London in 1850 as George Edward Thomas, without arms.
His rare pitchbook found in The Welcome Collection depicts him on its cover playing the accordion with his feet. Interior illustrations show him sawing and planing a piece of wood with his feet. Chambers was married, and had several children.
He was managed by Tom Norman "The Silver King" and toured throughout Europe, The United States and South America.
Related Archive Photos