Captain Louis Sorcho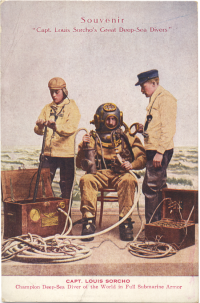 Captain Louis Sorcho was a deep sea diver who made a career doing exhibitions of his skills and inventions. When the USS Maine was exploded and sank in February 1899 by the Spanish in the Havana Harbor Sorcho was able to recover all 260 sailor's bodies.
Sorcho'show appeared in Coney Island from 1909 through 1914 at Dreamland and Luna Park. He and his team exhibited mock diving and rescue missions in an 8,000 gallon glass water tank.
Related Archive Photos