Benny Rogers "The An-drog-y'nal Wonder"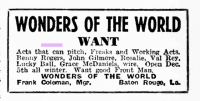 Not much is known about this "half-and-half" performer who appeared in the 1930's and 1940's. Benny's address in the mid-1930's was in Waxahachie, Texas, where he may have been from.
According to The Billboard, Benny played Baton Rouge at The World of Wonders Museum in 1943 as "the annex" attraction. This was a Store Show managed by Frank Coleman, and it also featured Lee Kelly, a sword swallower, and Prof. L. Lee Vitch, with a Palmistry Booth.