Annie Jones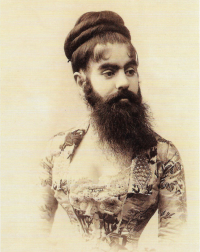 Perhaps the most famous, and certainly the most easily recognizable Bearded Lady of the 19th-Century, Annie Jones started in show business at a very early age.
When Annie first appeared she was billed as "The Infant Esau," a reference to Esau of The Old Testament who was the son of Isaac and Rebekah and was born hairy.
Annie Jones was born in Marion, Virginia, July 14, 1865.