Laurello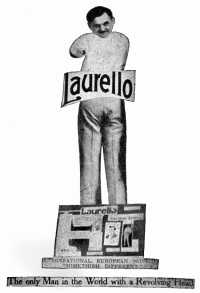 Martin Joe Laurello was born Martin Emmerling in 1885 in Germany. In 1921 he came to USA, and began a career at Coney Island that spanned 35 years.
He was a contortionist whose primary skill was the ability to turn his head a full 180-degrees. With his face facing backwards, he could see directly behind him as he walked..
He was a performer at Ripley's "Believe-It-Or-Not Odditorium," Hubert's Museum, and worked in the sideshow with Ringling Brothers Barnum & Bailey Circus.
Later in his career he trained both dogs and birds.
Laurello died in 1955.