Nicodemus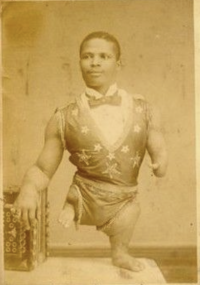 While the performer known as "Nicodemus" is well-known by virtue of the many images of him in books and online, and by his wholly unique body type that makes him instantly recognizable, his actual name and history is much harder to parse.
His anomalous body was as a result of an unusual case of phocomelia, with the growth of his limbs issuing from his body without the normal connective parts.
He seems to have entered the dime museum scene in about 1892. An early ad from that year claims he is "23 years old, 27 inches high, weighs 104 pounds..."
Related Archive Photos