Maria and Anna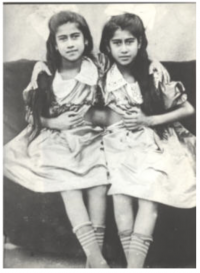 From Elizabeth Anderson:
"Mary and Anna, world famous Hondurainian joined together twins, were born in Rio Hondo, Honduras, May 17th, 1907. Their mother died at birth, but through scientific care and nourishment they have developed perfectly normal bodies and brains.
Since seven years of age they have been on exhibition throughout the world with all the larger circuses, museums and traveling outdoor shows.