Francies Benton "Male And Female In One"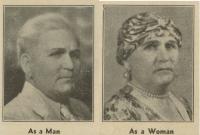 In 1937 the Hugh H. Young of Johns Hopkins University published a volume titled "Genital Abnormalities, Hermaphroditism and Related Adrenal Diseases." Young did not pass judgment on the people he studied, nor did he attempt to coerce into treatment those intersexuals who rejected that option.
Francies Benton, was described in the book as a practicing hermaphrodite, and "had not worried over his condition, did not wish to be changed, and was enjoying life."
Related Archive Photos